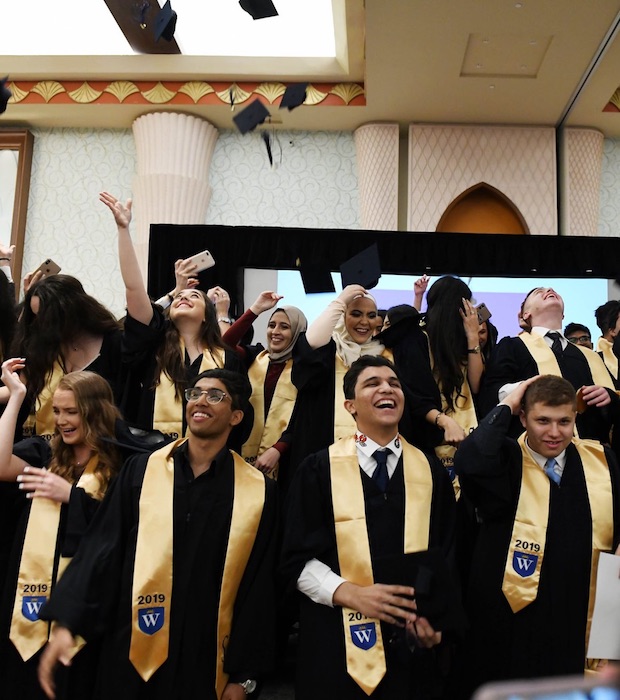 University Destinations
GEMS students are accepted by some of the world's most prestigious universities
GEMS students are accepted by some of the world's most prestigious universities
Our experienced and dedicated Sixth Form team plays a crucial role in supporting students to choose the IB pathway and subjects that complement their academic and personal strengths. Our University Guidance Counsellor has built excellent relationships with many of the world's leading universities, so we are able to support students with applications across all the universities and countries they wish to apply to.
In addition, we support students with their personal statements, course choices and mock interview preparation as well as inspiring them with academic lectures and enrichment activities in their subject area. We have over seventy university visits each year, and we host a higher education fair.
GEMS Wellington International School students led by their determination and aspirations are studying in the UK, USA, Canada, Europe and Australia. We are very proud of our students' achievements, with many securing places, including scholarships, at top universities around the world, including Cambridge, UCL, LSE, Princeton University, Stanford, JHU, BU and UC Berkeley to name a few.
Both the IBCP and IBDP, allow students to make international applications and both are recognised and highly regarded by all universities. These days, there's a lot more to a university education than obtaining a world class qualification alone. Here's how we prepare our students for university and the world of work:
Development of employability skills: It's not just a degree employers look for. A GEMS student gains self-confidence, communication, initiative, team work and time management skills Interest and experience in their future study courses: Have a look at how we prepare our Alumni for their university courses before they leave school. Improved career prospects: A higher education is a gateway to jobs in the future. Many organisations around the world employ GEMS Alumni. With tens of thousands of contacts all over the world, your child will find a connection wherever their career takes them.
Development of personal and social skills: GEMS Core Values have been part of our DNA for over 55 years. With a GEMS education, your child will not just become a conscientious student, they'll also gain the confidence and independence to thrive at home, university and at work.
Whether we are lucky enough to teach your child for a few years or many more, the lessons they learn at GEMS will remain with them for the rest of their lives.
In the last four years, the GEMS family of schools has enjoyed some of the best university acceptance rates of any international educational organisation. Our students have been accepted into 1050 universities in 53 countries, including 66 of the world's top 100 universities.
Our 2020 University Offers