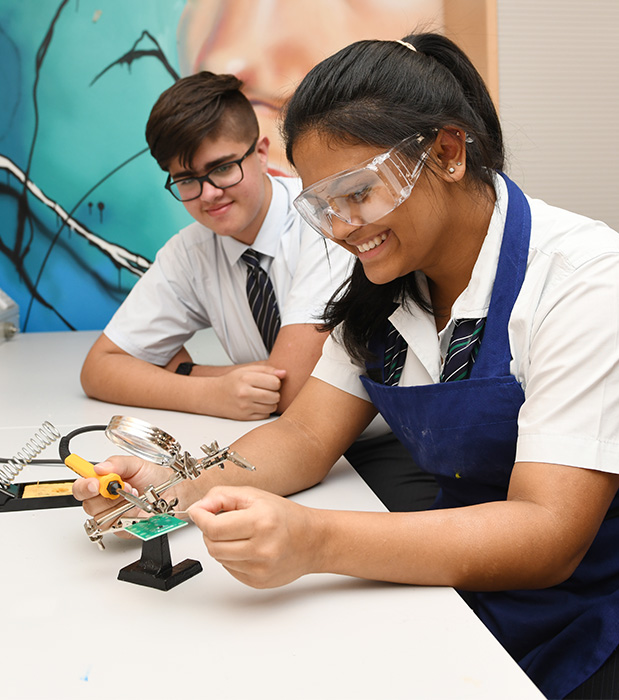 The IB Advantage
IB Programme
In an environment of increasing competitiveness among institutions of higher education, and taking account of the growing mobility of students, university admissions tutors and academic staff around the world recognize the benefits of recruiting IB graduates for their universities and colleges. The benefits include:
The admission of students from a rigorous academic background, who know how to think and to learn
The absence of any concerns about grade inflation
The knowledge that state and national standards are being met and exceeded through effective teaching and learning; IB standards and grading practices are the same around the world, which means the criteria for achieving each grade are the same for all IB World Schools
The rich diversity of experience and perspective that IB Diploma Programme students bring to their university or college.
Admissions officers around the world use some of the following assumptions about IB diploma graduates to assist them in the admissions process.
Academic strength of curriculum
Admissions officers can be assured of students' strong preparation of coursework in a cohesive and broad‑based curriculum that encompasses the basic academic areas: mother‑tongue language and literature, second language, social sciences/humanities, experimental sciences and mathematics.
Academic strength of schools
All IB World Schools must offer, support and maintain a minimum of seven or eight strong academic departments.
Academic strength of students
The IB Diploma Programme requires students to maintain a high level of focus and performance.
External validation
The IB Diploma Programme validates both achievement and academic integrity in students' performance through its examination requirements.
Research and writing skills
The extended essay requirement—an independent, self‑directed piece of research, culminating in a 4,000‑word paper—provides practical preparation for the kinds of undergraduate research required for further and higher education.
It is also the opportunity for students to engage in an in‑depth study of a topic of interest within a chosen subject.
Acceptance of educational challenges
Participation in the IB Diploma Programme demonstrates that students accept, rather than avoid, rigorous academic challenges.
Critical‑thinking skills
The required theory of knowledge course ensures that students become critical thinkers who understand the interdisciplinary nature of learning.
Interview skills
IB students have strong preparation in oral presentation skills. Several IB courses include mandatory oral assessments, and the theory of knowledge course requires students to shape their opinions into logical discourse.
Extra‑curricular involvement
The creativity, action, service element requires students to invest a minimum of 150 hours during the final two years in non‑classroom activities.
Maturity and responsibility
The IB Diploma Programme assists students in developing time‑management, goal‑setting and other organizational skills.
For more information on university recognition of IB Diploma students and testimonials from leading universities please refer to the IB's University Recognition Booklet.
IB is well known to us as excellent preparation. Success in an IB programme correlates well with success at Harvard. We are pleased to see the credentials of the IB Diploma Programme on the transcript.

Marlyn McGrath Lewis

Assistant Dean of Admissions, Harvard University, USA

I would lean over backwards to admit IB students

Dr Loebinger

Manchester University

When I interview for top jobs I always look for people with a breadth of skills and knowledge. The IB Diploma provides this breadth, plus language skills and an all-round balance. It invariably gives applicants who hold it an advantage over other job candidates.

Peter Forbes

Head of Sales UK, Streamline Merchant Services, Royal Bank of Scotland