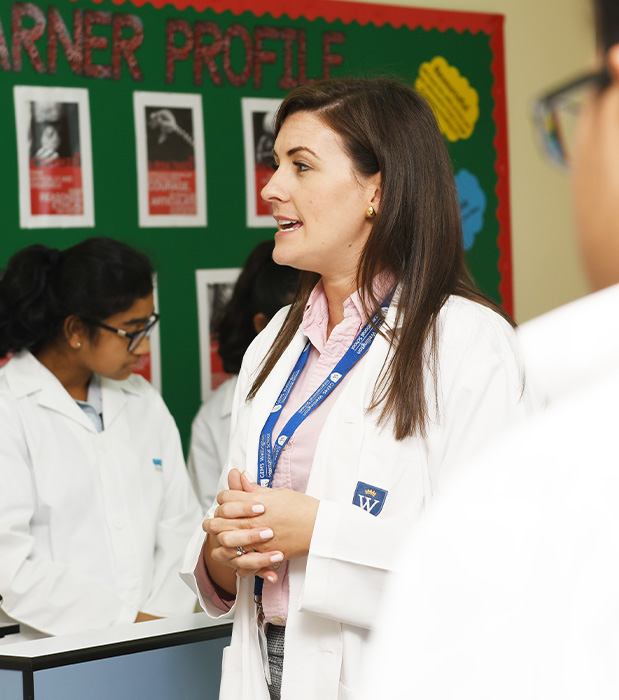 Working With Us
Teacher and Leader Recruitment
Do you want to join a fast paced, exciting and forward thinking learning environment?
Do you have what it takes to be a WIS Teacher?
We recruit the best high performing UK trained teachers who display the skills and attributes aligned with our vision and philosophy of pursuing the 'Beyond Outstanding' and driving for Excellence in everything we do.
As a World-Class High Performance Learning School, at WIS we are passionate about the development and continual growth of our teachers. Our expansive professional development opportunities ensure that we create the climate for teachers to flourish and continue to improve their practice.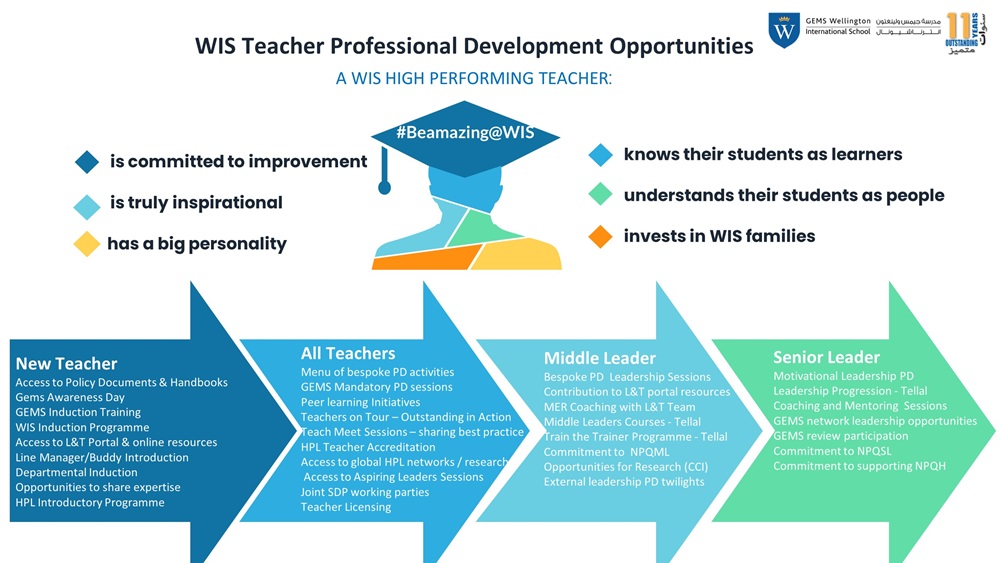 All our staff are highly valued and we have a strong commitment to develop them in a positive pro-active community. If you are interested in working for us please do not wait for an advert, contact us and we can discuss your future further.
Staff Testimonials
"Moving to Dubai and teaching at WIS is one of the best decisions I have ever made. The level of encouragement, trust and opportunities that WIS has provided me as both a teacher and a leader, has empowered me to take risks and step out of my comfort zone.

Over the past 8 years WIS has become like a second home. I love coming to work every day, doing what I love best...teaching, inspiring young learners and motiving them to achieve their dreams,

as well as working with amazing colleagues who share my passion.

At WIS I felt valued and supported from the moment I signed on the dotted line! I have never felt so motivated and empowered to make a difference."
Natalie Twigger, Assistant Headteacher - Student Culture and Experience (Lower School)
"I am valued. I feel comfortable taking risks that allow me to develop as a teacher and a leader. I am able to demonstrate my values in a whole school setting and feel encouraged to achieve and reach my potential as an educator. I am supported to inspire innovative thinkers and creative learners through enhancement opportunities. I am a global teacher who is able to have an impact on the wider world. I am a WIS teacher."
Charlotte Titterton, Head of Geography, Eco Coordinator, Sustainability and Climate Literacy Lead Teacher
"It is great to work in an ever growing and developing environment. At WIS, you have the opportunity to be able to explore different pedagogical approaches in an encouraging and supportive environment. Having the opportunity to work with a variety of teaching staff through school, enables development in both personal and professional aspects.'
Georgina Willis, Year 4 Teacher
"I am fortunate to be part of the WIS community for 12 years. During this time I have been provided with numerous opportunities to support both my professional growth and personal development. It is a privilege to be working alongside so many professional, talented and committed friends and colleagues. At WIS we have a strong sense of community, always striving to do the best for the children in our care each and every day."
Sandra Collins, FS2A Teacher
Job Opportunities
If you are interested in working for us, please click here to view and apply for vacancies at GEMS Wellington International School.
The opportunities available at the moment: