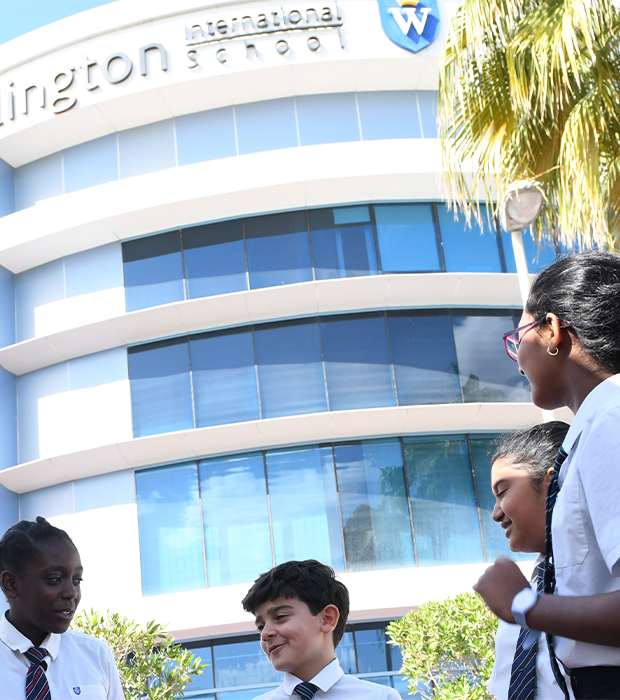 About Our School
Welcome to GEMS Wellington International School
The GEMS Wellington International School is a truly ground-breaking learning environment that provides exceptionally high standards of education to all the students. The school, spanning an area of eight acres, offers a spectrum of facilities and resources that combines a world class education with distinctive, state-of-the-art infrastructure.
The GEMS Wellington International School is based on a refreshing design and an exciting environment offering an enriched curriculum with world class facilities. An environment that will become a focal point for the community.
As students enter the school they will be presented with the latest technology-based learning resources that will stimulate their senses. On entering the concourse they see the Creation Garden featuring exotic plant life and flora, creating an ambiance rarely seen in schools. The Digital Signboards adorn school corridors informing students of their next classes, upcoming events, clips of past-events and other information.
Students can then expand their horizons by visiting the school theatre - WIS Theatre, which seats 472 people, or visit the Observatory for a breathtaking glimpse of the galaxy and the stars.
The entire concept of the classroom is changing at WIS. The smart classrooms at WIS features WiFi connectivity, Interactive whiteboards, Audio-Visual and multimedia projectors. It is this step forward taken by the GEMS group which will assert the Wellington Schools as schools of the future.