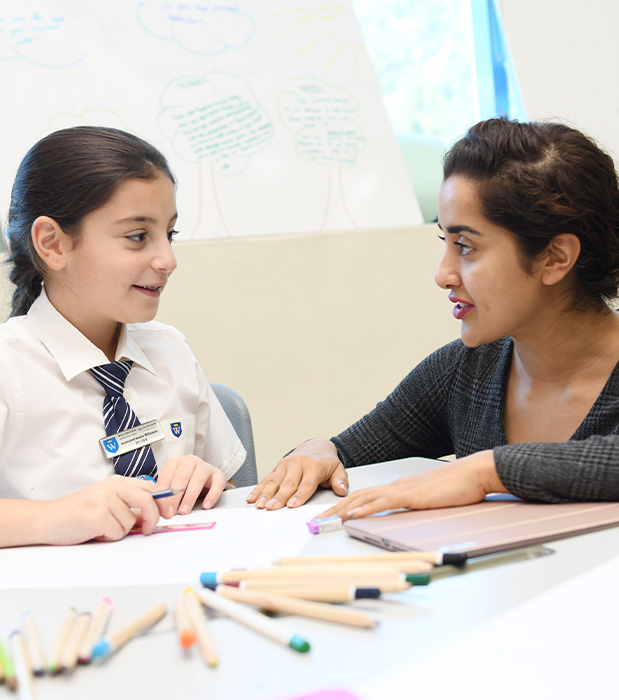 High School College Counseling
DAA closely monitors the development of each child within our care through the Student Support Team systems at each level. We have an outstanding guidance system comprised of 9 counselors, providing students with strategies and support in all areas of concern and developmental growth. The addition of a Dean of Students in 2019 both in the middle and high school allow for targeted support and intervention for students along with parental follow up and support plans.
DAA has a dedicated counselor to transitioning grade 9 students into the high school for the 2019-2020 academic year. DAA HS has an additional four full time counselors who oversee grades 10-12. These counselors support students with not only their social and academic needs but also have a strong emphasis on college/career advice and guidance through the application process. Counselor caseload is separated by the alphabet to allow students to remain with the same counselor throughout their high school career.
University Visits
Dubai American Academy welcomes college and university admissions representatives throughout the school year to speak with interested students during morning break. Approximately 250 universities from around the world visit our school every year.
We advertise these visits through Unifrog, Facebook, and the High School Bulletin. These visits are limited to students only, but parents are always welcome to contact our office for the contact information of a visiting representative. A bulletin board is located in the High School landing area displaying business cards from all of our university visitors. Please find useful links to High School Counseling Resources below:

DAA HS Counseling on Facebook
DAA High School Counseling Office Wordpress - blog
Unifrog - college/university research tool
Parchment - online transcript service
For College & University Admissions Representatives
We welcome college and university admissions visitors between 9am and 10am on Sunday, Monday, Wednesday and Thursday during the school year to meet with our four counselors and students in a short college fair-style format.

If you would like to book an appointment to visit Dubai American Academy during one of the times listed above, please contact the High School Counseling Secretary, Mrs. Jan Evans, at [email protected].
*Please note that we are a paperless office so we are not able to keep any college promotional materials in our office for students. We recommend that you just bring your business cards, a table banner, and a few brochures as many students prefer to not take college promotional materials.