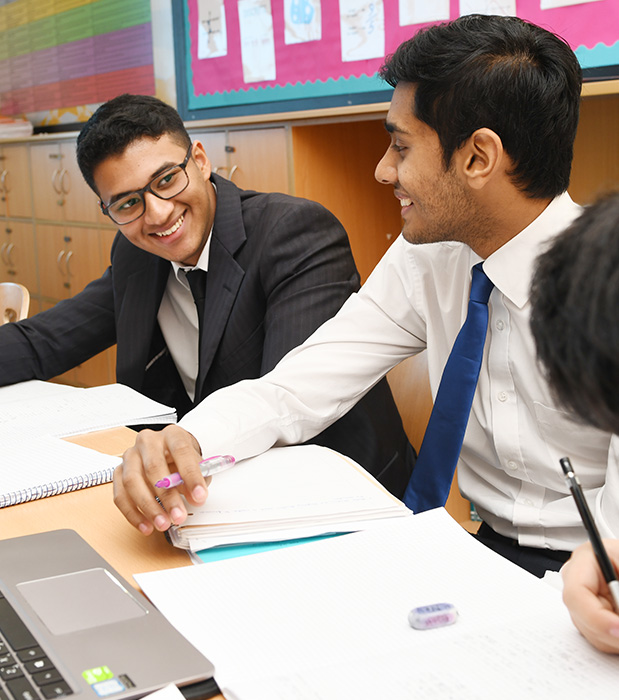 Student Leadership
Student Leadership
It has been said that "great leaders don't set out to be a leader…They set out to make a difference. It's never about the role – always about the goal" (Lisa Haisha, Best-Selling Author and Life Coach). At GEMS Wellington International School our aim is to develop the next generation of world-changing, change-inspiring leaders by providing our students with opportunities to develop their leadership potential. Many of our students may not currently be thinking about pursuing a career in leadership, but we can guarantee you that they will make a positive difference in this world.
Investment in leadership is something that organisations all over the world spend significant time and money on; whether that be political leadership, where the leader will often spend 4-5 years (a term) as the leader of the political party, before passing onto another leader who has been nurtured in preparation for the role, or a manager of a sports team, in which coaches are supported by the sports federation in completing a number of qualifications to be able to lead a team at the top level of a sport. It is clear to us, as a school, that if we invest in our students and in developing their leadership potential, that they are going to have a positive influence not only in the future, but also in the positive change that we continue to invest in at WIS.
We harness our students' leadership potential in many ways, and like many schools we offer plenty of opportunities for student leadership, such as our student council, sports leaders, eco club, philanthropy team and our pastoral leaders. However, we also dedicate time to developing the potential of our students. This has been particularly evidenced by our recent Student Leadership Afternoon, where students attended 3 seminars about leadership, which were presented by Senior Staff Leaders. The students had the option of 30 different sessions to attend and once they chose their sessions they accessed the live seminars on Google Meets. The students then engaged in the learning of leadership skills, were involved in open discussion with each other and with our staff, and were challenged to see how they would lead in different scenarios.
At the end of each seminar the students were asked to complete a survey which explored what they believed they had learned from the session. It was clear from the evidence collated from the feedback that students found the Leadership Training incredibly helpful as 93.7% of students found their sessions engaging and a further 94.1% of students explained that they learned new things about their own leadership potential.
During the final session students were asked to complete a Leadership Questionnaire, the responses of which generated a certificate which provide them with an overview of the type of leader that they are. Student feedback informs us that our students believe that it is essential for leaders to invest time in others, be courageous and to be prepared to fail in order to learn from your mistakes. These traits will stand our students in fantastic stead as they continue on their journey through life. Our students were also determined to express that they should not be contained by the limit's others put on them. James Kerr (author and motivational speaker) encourages leaders to "reach for the stars, for if you miss you will land on a lofty mountain", this is the attitude that our students found so important, which speaks to the fantastic and lofty ambitions that the students at GEMS Wellington International School have.
One thing is clear upon the conclusion of such an amazing event – it is vital that all schools invest in the next generation of leaders and you never know, we may learn a thing or two from them as well!