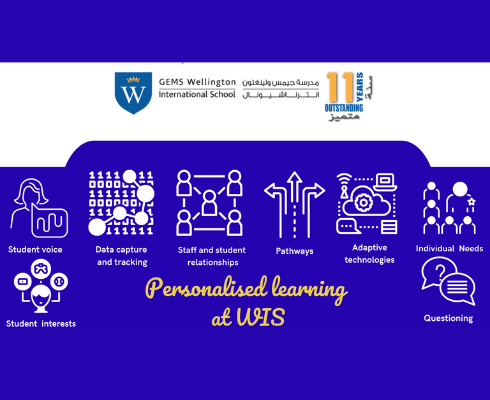 Personalised Learning
Personalised learning, on the surface, can appear to mean an independent plan with set outcomes for all students. Most certainly, in some instances, and for some students this could be the case. However, personalised learning is much more than an action plan and a set of criteria for a child to meet. At WIS our personalised learning takes many different forms and allows us to give the children a rich curriculum filled with opportunities. Research from the RAND Corporation states; "personalized instructional approaches and strategies will improve student outcomes in the short term (e.g., stronger rates of growth in achievement) and in the long term (e.g., successful completion of a postsecondary degree or successful transition into a career)."(Pane J. F., 2017) At WIS we are preparing all our students to be "Lifelong Learners" and a personalised approach allows us to fulfil this objective.
The principles of personalised learning are to give all students the opportunity to engage in their learning in unique and challenging ways. "Personalised learning encourages students to see themselves as learners so they can follow their curiosities and passions through project-based learning and develop their ideas with support from technology and teachers." (Turtle, 2020) A lesson that really enthused 1B may not have the same impact on 1C because they have different interests. One of the key roles of the teacher, when personalising learning, is to know their class and to design lessons that both meet the curriculum requirement but also pique the interest of the child by linking the learning to their experiences and passions. Personalised learning is about identifying where students can be challenged and how they can be supported to achieve targets.
There are many different methods of implementing personalised learning in the classroom. Firstly, it starts with the relationship between the teacher and student. Communication is essential to creating a personalised experience. Student voice, via student leaders, specific cohorts and whole school surveys allow us to develop and enhance both the curriculum and enrichment opportunities. This coupled with parent meetings, webinars and surveys provide opportunities to individualise our approach to learning and teaching to ensure that the very specific needs of our children are met. Furthermore, language used within schools is pivotal, every student will have a different grasp of language and teachers vary the level of language used for individual students and for different classes. Personalised learning can be further embedded through using adaptive technologies and use of different web platforms to explore topics. "There is indicative evidence that digital tools and resources can help to reduce gaps in subject attainment where they are effectively implemented. There is promising evidence that digital equipment and resources can help learners with additional support needs to improve their skills and competences in literacy and numeracy".(Ltd, 2015) Thus creating equity in the provision for all students.
Well-structured lessons provide opportunities for students to start at different points dependent on how confident they are with the concept or skills. Skilled teaching makes explicit links to the application of a concept in real life, allows for different outcomes, and contains well-structured questions. There are five key elements within personalised learning 'achievement, aspiration, inclusion, relational, accountability" (West-Burnham, 2010) each of these underpins the elements of personalised learning within the classroom. This is accompanied by clear and effective assessment routines.
Personalised learning is not just about the learning in lessons, it is also about providing students and parents with different pathways to support their learning. At WIS, this is through options choices in Year 9, choice of humanity in Year 8 and language selections. At GCSE, students can choose a variety of options to best suit interests and academic development. Within the IB we offer three different pathways that allow all student to thrive and achieve. Effective collection of, analysis of, and responsiveness to student data is central to the development of personalised learning environments" (2012) At WIS our raising standards team have a clear and meticulous assessment system that identifies all levels of attainment which in turn, allows for honest and reflective conversations with both students and parents about pathways.
Rigorous monitoring, evaluating and review systems allow us to really understand what learning looks like across the school and to ensure that exemplary practice and good ideas are shared though the Lower, Middle and Upper schools. This is accompanied by a professional development program that promotes individual research, projects and skill development to enhance the learning of our children. 'If teachers are going to help students to develop the skills and competencies of knowledge-creation, teachers need experience themselves in building professional knowledge.'(Fultin, 2006). At WIS our teacher professional development is a non-negotiable and allows our teachers to personalise their own training and education based on their reflections and observations within the classroom.
At GEMS Wellington International School we provide our students with a varied and rich curriculum filled with excitement and adventure. We listen carefully to the students and parents to create relevant and interesting learning opportunities. This was reflected in the reports for the two most recent rewards we have won. For the Optimus Wellbeing Award for school, the inspector noted "Student voice within the school is very strong and students have contributed greatly to the school's overall provision." and for the Optimus Learning Parent Partnership Award he stated "Parents feel supported and students are aspirational and feel their parents are well informed" Personalised learning is more than a target it is about the overall experience for the child and family. At WIS this at the very core of our practice.