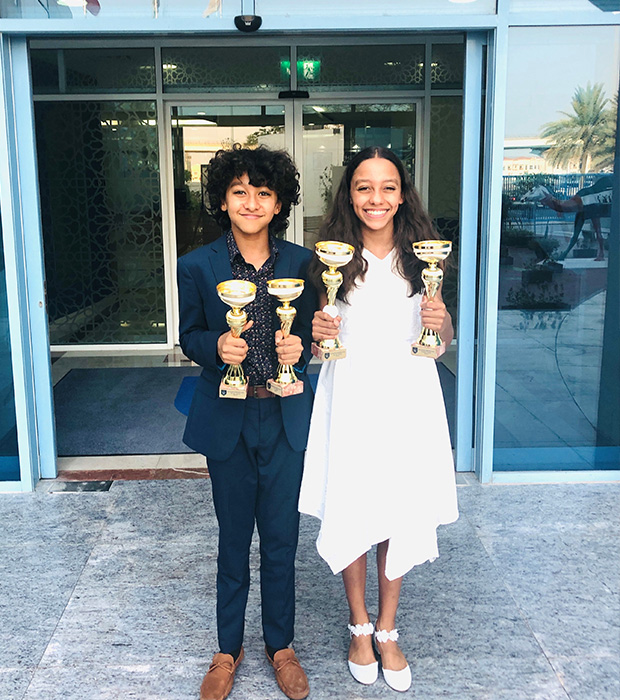 National UAE Swimming Competitors
Christina and Daniel Rach
Tell us a little bit about yourself
"My name is Christina I am 12 years old and from Germany, however I was born in Dubai and I have lived here all my life. I have been at WIS for nine years and of course my favourite subjects are PE and Maths!"
"My name is Daniel Rach, I am in Year 7, I was born and raised in Dubai but I am from Germany. This year my favourite subjects are PE and English."
How did you both get into Swimming?
Christina
"I never really knew competitive swimming was a thing until I was around 9 years old when I had my first competition. I only started swimming to have fun and for safety reasons but my coaches saw I had potential and told my mum about higher levels and soon enough that's what made me start competing every week and training every day."

Daniel
"My mom always wanted us to be safe in all possible ways, especially in the water, and I as I got older I started to enjoy more sports like Basketball and Football but I wasn't so strong as the other children that I played with. Me and my mom then decided to focus on swimming to get me fitter.

I am extremely competitive which is either a good or a bad thing. Me and my sister always see who is the better twin. When my sister became interested in Swimming competitions I just felt the need to also swim. At first I forced myself to swim and didn't enjoy it at all, however when we didn't compete with each other anymore I grew to like swimming! I now see swimming a hobby and not as a competition against my sister."

Tell us about your competitions and swimming galas.
Christina
"This year has been the best swim year I have had. I have qualified in competitions I never knew I could qualify for and won awards i never knew I could be capable of. One of my best competitions I competed in was the Middle East Open Junior Championship where the best swimmers from England, Spain, Kenya, and all of the Middle East competed. It was an intense competition however I qualified for two finals!
I swam 50m backstroke and 100m backstroke, placing 3rd for the 50m backstroke and also gaining a new PB by 3 seconds!"

Currently my PB is 33.86. I was ecstatic when I achieved this and could not believe out of nearly 400 girls in my age group I placed!
I have also competed in the Abu Dhabi International Swimming Championships, which is where i really took off this year. This was the first time I saw myself as a talented swimmer. The finals were only the fastest eight 12 year olds and I came 3rd out of the whole UAE. On top of that it was my first competition where i was on live TV."
Daniel
"I am a competitive person and don't like losing. I try my hardest in every gala and hope for the best. My main stroke is backstroke. Every year there is a school gala called Middle East Unity Cup. It is where most countries from the Middle East come and race against each other. I swam many events but my proudest event was 50m backstroke where I gained a new PB which was 35.45. I placed in the top 10. One other competition I swam in was Swim Fast League where I placed in every event. I set many PBs for example in the 200m where I got the time 2:59."
How do you balance swimming and school?
Christina
"My parents say that school always comes before sports so whenever they see me struggling in a particular subject we pause for the day of sports and practice on the subject. We are really busy with swimming so we try and complete homework on our way to training."
Daniel
"My mom and dad always say studies come first. By that I have to study whenever I can. Reading in the car, doing homework before training, after training too and sometimes revise for an important test which means not going to swimming training. I do it for myself to get better grades and for my future. It is important to reflect on yourself. If I feel that I am struggling for example in maths, it is vital that I tell my mum and tell her that I am struggling and that I need to skip swimming for the day."


What are your future aspirations?
Christina
"For me since I am still quite young I want to do a number of things. I want to be a 100m backstroke Gold Olympic Medallist swimmer or a WNBA Star or even a lawyer or maybe a doctor, it's just so many things that I could choose from but I know for a fact that I need to pursue swimming and inspire young people. I only started competitive swimming two years ago and no one believed that I could achieve what I have achieved in such a short amount of time, and that's really what motivates me."
Daniel
"Right now I am not sure. When parents ask me this question, the only thing that comes to mind is basketball to be honest. I am still young and trying to figure out what jobs I can do. However I have many hobbies and can still try them out in the future such as; skateboarding, football, swimming, and engineering."
What piece of advice do you have for fellow students?
Daniel
"My best advice I can think of is to motivate yourself. I watch every swimmer, football and basketball player and they always say to enjoy the things you do and stay positive. It took time to really use that quote and support me through training. Before I used to see training as a negative thing and wish I could be home playing my PS4 but it really takes time to realise how much a sport can define a person, and it has for sure defined me!"

Daniel and Christina's parents Mr and Mrs Roach told of their immense pride that they have, watching the dedication and commitment both Christina and Daniel have towards their studies and training.

"We are incredibly proud of Christina and Daniel and their achievements in terms of their sports and academics, they are so motivated to always do their very best and succeed at every aspect of their lives, it is an absolute pleasure for us as their parents to watch them strive to be the best version of themselves taking on setbacks with a smile and always been so incredibly resilient in every thing they do.

We support them as parents with love, guidance, and we are always encouraging them to reach for their dreams whilst accepting moments of disappointments with a sense of acceptance and commitment to do better next time. We stand by them whether at swimming, netball , basketball, football or their academics and provide them with all the support they need to achieve their dreams."