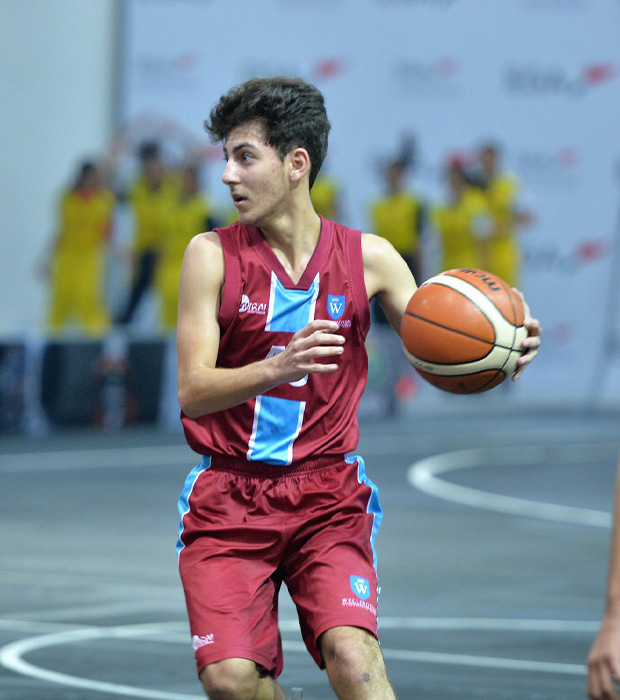 John Haffar - Sport Scholar
John Haffar is another one of our Sport Scholars. His main sport is basketball, but he is also a sporting enthusiast and takes part in many other sporting activities. Read his interview below:
Hello my name is John Haffar and I have been involved in sports for 11 years and counting. I play all kinds of sports from athletics, to swimming , to tennis and my main sport basketball. Since I was five years old, I have been playing competitive basketball with my club. I am committed to four training sessions per week, at 5 am, and also participating in tournament matches with my club. I have been in the school basketball team for eight years, with our immaculate record of not losing one game until recently!
I love Wellington International School because the schools has some of the best facilities for sports, allowing all students to choose and practice a wide range of sports. I also love the dedication to competitions, for example entering us into the World School Games for Athletics and Basketball.
The sporting achievement I am most proud of is winning the MVP for the GEMS Cup Tournament in the 2017-2018 season. This is because we had some of our most valuable players away and despite them not being with us, I took the courage into pushing our team until the very last game and told them we weren't going home without that first place trophy!
I am currently studying HL SEHS and HL BIO, and in the future I would like to study Kinesiology, as well as applying for a University Scholarship for basketball at McGill, Canada, as it has one of the best teams for basketball.
My favorite quote is from Michael Jordan, he once said " I can accept failure, but I can't accept not trying." Without a doubt, this quote should be applied to everyone! I want every student at WIS to not feel like they can't do anything but at least have the courage and determination to elevate and start trying new things until you find something that works for yourself.