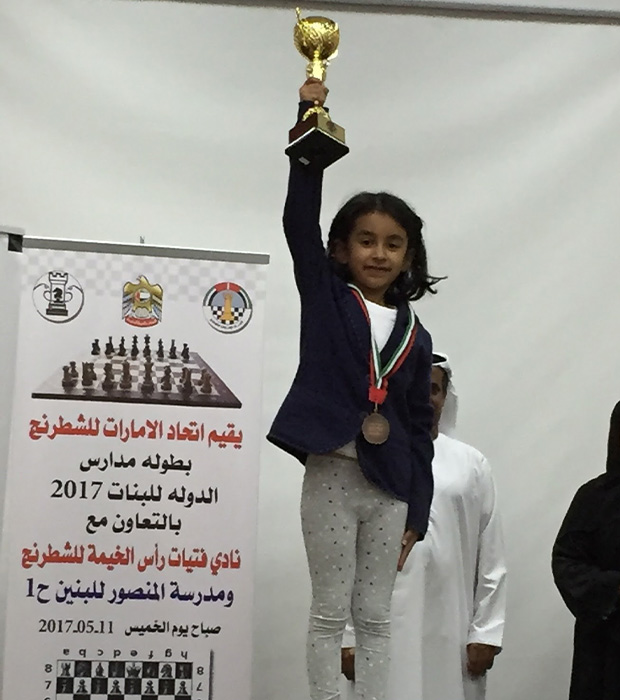 International Chess Competitor Takes On The World
Ziana Singh
Year 4 student, Ziana Singh is an International World Chess Competitor, challenging fellow Chess Champions around the world!
At only four years old, Ziana showed a keen interest in the game, and only a few weeks later, she was up early every morning ready to challenge her parents to play!
Tell us what got you into playing Chess?
In 2015, when I was just four years old, my uncle came to visit us for a week during my summer break. I was quite bored and he and my mum used to play chess. I was intrigued but my mum refused to teach me as she thought I was too young to learn. I kept on requesting for next couple of weeks until one fine day, she gave in. The next morning, I was standing at 6 AM with my chess set waiting for her to wake up and play again.
How long have you been playing?
I have been playing chess for more than five years now. Within a month of starting, my parents took me to Dubai Chess Club for professional training as I managed to defeat them a couple of times. In 2016, I had won Grade 1 UAE School Championship and I went to Russia to play in World School Championship. I was just 5 and it was -12 degrees there! A very cold but incredible experience!
What are your future aspirations?
I want to be a Grand Master in few years and be in the Top 10 players in the world. Hopefully I get to defeat Magnus Carlsen in the process, he is current World number 1! There has only been one woman (Judit Polgar) until now to manage that, and hopefully I can be the second!
How do you balance school work with practice and competitions?
There are so many things to learn in Chess, I train several hours a week and a lot more if I am preparing for big tournaments. Even when the round is done, it is important to analyse the game and learn from mistakes before playing for next round. A lot of children I meet in World or Asian Championships don't go to school and focus solely on chess along with home-schooling, however I am in full-time education, so it is important to keep focused on my studies also.
Occasionally if there is a tournament, I miss school work for few days and come back and catch up on it, and I have a very supportive team of teachers and parents behind me, who continuously support me both with my academic work and Chess. It takes some effort but I love playing chess as I get to travel to new places like Russia, Romania and Sri Lanka and have met children from around the world – a truly wonderful experience!