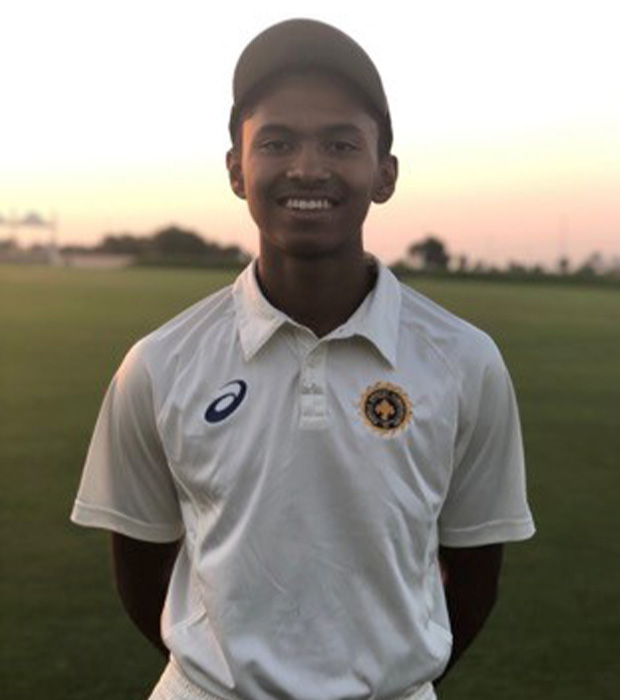 Cricket Sensation
Aditya Prakasan
Year 12 student Aditya Prakasan is a Cricket sensation who plays professional Cricket for the Kerala State U19 Cricket Team.
"I am from India and have lived most of my life in Dubai and other Middle Eastern Countries. Currently, I study Maths Analysis and Approaches, Physics, Chemistry, Business and Management as higher level (HL) subjects and English and Italian ab initio as standard level (SL) subjects. Last year in my GCSE's I received 5 grade 9's, 2 grade A*s and 3 grade 8's.
I have been playing Cricket since I was five years old, and I currently play Professional Cricket. I am a member of the Kerala State U19 Cricket Team and have previously been member of the Kerala State U16 Cricket Team for two seasons. I have also been part of the UAE U16 Cricket Team, but chose to pursue Professional Cricket in India. Playing for the state team in India is the stepping stone towards getting an opportunity to play for the national team.
I practice Cricket 5-6 days a week and also focus on my fitness through conditioning sessions four days a week. Fitness is an integral part of my performance as a Cricketer and I also enjoy keeping fit otherwise. I have worked with the likes of Dave Whatmore, former world cup winning coach, and Sony Cheruvathur, former Kerala Ranji trophy captain.
Playing Cricket hasn't just taught me how to hold a bat and throw a ball; it has taught me a lot more. Cricket has helped me develop many skills and has played a vital role in my personal development. It has helped me mature as a person and has made me mentally tough for the ups and downs an athlete faces. Due to the competitive cricketing environment in India, I have learnt to bring grit into my character and make use of every opportunity I get. Because of Cricket, discipline is an integral part of my life. Another important lesson I have learnt is that it's always important to focus and enjoy the process, as the results are bound to come your way if you get your process right.
The past five years have been a steep learning curve for me as I have learnt to manage my academics along with my cricketing commitments. Even though it hasn't been easy, all the efforts have been worthwhile and the support from my parents and WIS has helped me excel at both Cricket and Academics.
Apart from Cricket, subjects that interest me include Mathematics and Physics. Additionally, I am interested in working on various science and business projects outside of school to help me explore my interests. Mentoring students at school has given me a new perspective of the subjects I have learnt at school and helping younger students is something that gives me lot of joy. Currently I run a DT club at school, and mentor students with subjects such as Mathematics, Physics and Chemistry.
At WIS, I believe there is a great sense of belonging within students and teachers. An encouraging environment is created where we can thrive as learners and equally pursue our other interests. As I often travel to play Cricket during the academic year, WIS has always supported me when I have missed school."
Mr and Mrs Prakasan – Aditya's parents
We are very proud of what Aditya could achieve both in Cricket and Academics with his commitment and work ethics. Balancing demands of both was not easy and he had to always go that extra mile to get the required results; Nonetheless, we believe the experience of playing professional Cricket through his schooling years has helped Aditya a lot in building skills such as setting goals, time management, discipline, being focused, teamwork, physical fitness to name a few.