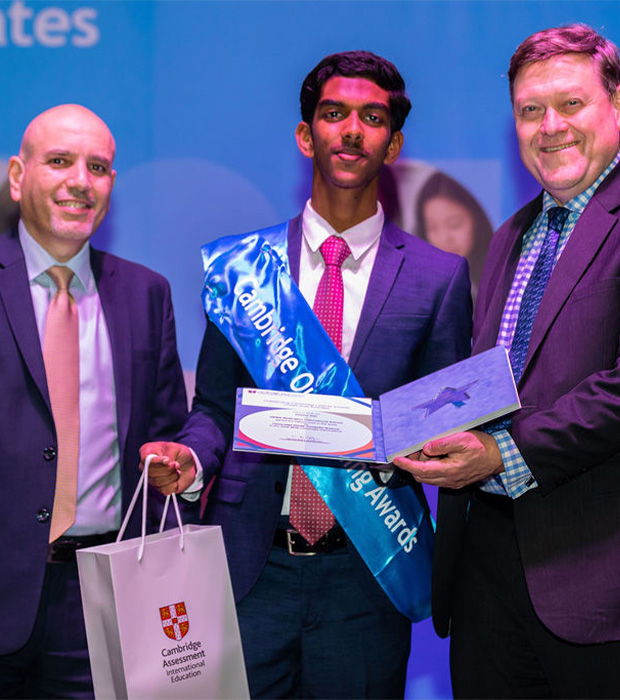 An Outstanding Student
Chetan Nair
Head Boy for 2020-2021, Chetan Nair is truly outstanding.
Currently in Year 12, the first year of the IB Diploma Programme, Chetan studies Math Analysis and Approaches, Physics, Economics and Chemistry as Higher Level subjects and English and French as Standard Level subjects.
Last year Chetan achieved an incredible nine level nines and two A*s in his GCSE's. He was also awarded and Outstanding Learner Award by CAIE - Cambridge Assessment International Education for achieving the highest score in the world for his Computer Science GCSE.
"I was fortunate enough to be recognised by the Royal Astronomical Society for my Astronomy GCSE results, of which I am extremely proud. As someone who has been fascinated by the beautiful intricacies of the universe and its mysteries, I intend on following a path to study astronomy and astrophysics in the future, with an inclination toward computational astrophysics.
Innovation, technology and developing business solutions are activities I enjoy undertaking besides academics and have been given many opportunities by WIS to do so. Last year, our team was able to win the Young City Makers Championship, receiving an award from the crown prince of Dubai.
Based on our developed solution for the product, the UAE government has rolled out Careem Bikes, an addition to the current public transport network. Two of my friends and I were also able to win the DEWA Business Cup Challenge; developing a solution to implement AI into UAE's utility services. My friends and I also placed first in the Curtin Interschool STEM Competition this year.
As someone who is passionate about sustainability and the environment, I am an eco-leader within the school's incredible environment club. During my lunch breaks, study periods and after school, I dedicate my time towards running my Economics Club, and I also mentor younger students in both Computer Science and Math. One of my interests outside of school is cooking: I love being able to help out in the kitchen, experimenting with new recipes and of course, eating (who doesn't love food?). Completing the circle, I am also an avid fitness enthusiast and enjoy waking up every day at 4:30 am to go for a run.
Something I particularly enjoy about student life here at WIS is the freedom to explore new ideas and avenues. Teachers and students are incredibly supportive and that prompts us to embrace new challenges, creating a healthy and enjoyable learning environment for us."