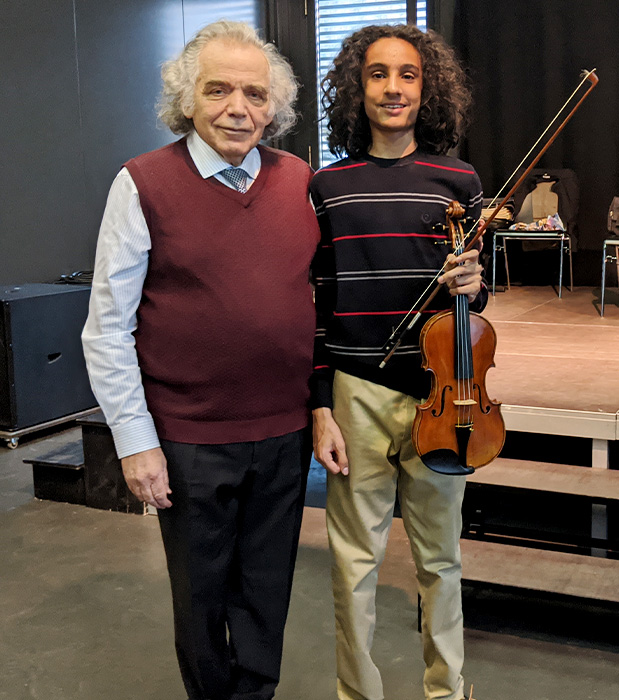 An All-Round Violin Prodigy
Taejas Venkataraman
My name is Taejas Venkataraman, and I am a 16-year-old student of WIS in Year 12. I was born in New York, USA, although I spent the majority of my childhood living in Singapore. My family and I moved to Dubai in the autumn of 2017, which was when I joined WIS. As a student of the IB diploma programme, I study Maths Analysis, Physics and Music as higher level (HL) subjects and English, Italian and Geography as standard level (SL) subjects. Last year, I received six grade 9s (which is the highest) and two A*s in my GCSEs, including all three sciences, English, Maths, Further Pure Maths, Italian and Music.
I have a passion for playing the violin, having started learning when I was four years old. I was the winner of the American Protege International Competition of Romantic Music in 2015 and was hence bestowed with the honour of being able to perform in New York's renowned Carnegie Hall. During my time spent in Singapore, I won the silver award at the Raffles International Violin Competition for Solo Violin in 2017
In 2018, I had the opportunity to perform a solo violin concerto for the very first time in the Basilica di San Pietro in Perugia, Italy, accompanied by the Cherubini Orchestra of Florence. Subsequently, I returned the following summer for another performance. Additionally, after having moved to Dubai, I was the winner of the advanced category award for solo violin at the Emirates Peace International Violin Competition, 2019.
Recently, over the school holidays, I have had the opportunity to take master lessons from Prof. Zakhar Bron (whom I met whilst in Italy), a violinist and teacher world-renowned for having taught several of today's best violinists around the world. Apart from the violin, I also play classical flute and jazz saxophone and have passed the ABRSM grade 8 music theory exam with distinction.
Besides music, however, passions of mine include the aforementioned Physics and Maths; in the near future, I would like to study Physics at university. Some of my fellow peers and I regularly participate in and represent WIS at academic competitions in the UAE. Our team (at the time in Year 11) won the Dubai Maths Super League in 2018, and — very recently — three of my friends and I won first place at the Dubai Inter-school STEM Challenge 2020 held at Curtin University, Dubai.
Additionally, a proud moment for us was being presented with the prestigious award by HH Sheikh Hamdan as winners of the Young City Makers Competition in 2019, against a competition of more than 300 other teams from schools across the UAE.
Apart from academics and music, I thoroughly enjoy photography — especially of wildlife and nature — and trekking. Along with my parents, I have successfully summited Mt. Kilimanjaro (5885m), Tanzania, and have trekked to Everest Base Camp
I received my second dan black belt in Taekwondo whilst in Singapore, though I currently pursue Kung Fu here in Dubai. Besides that, I love animals and the environment and have two dogs.
To conclude with a bit about school life at WIS, I think that the sense of community amongst the students and teachers is outstanding. In addition, students are actively supported and encouraged to pursue their interests in areas other than just academics.