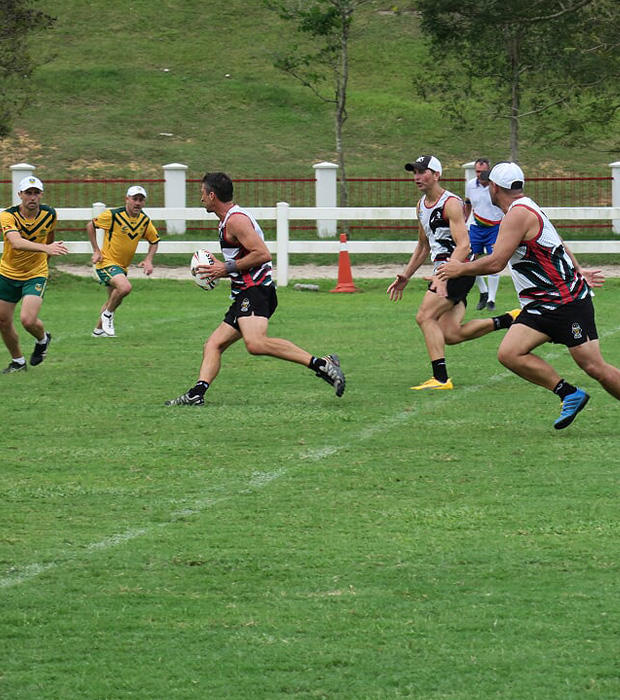 Captaining the UAE Touch Rugby World Cup Team
Greg Campbell
WIS PE teacher, Greg Campbell is a Touch Rugby Superstar and has captained the UAE Touch Rugby World Cup Team.
Greg told us about his experience leading the team to success
"Growing up in New Zealand, sport was an everyday occurrence. Having played a lot of Basketball, Rugby and Cricket it wasn't until I reached Year 9 that I was introduced to the game of Touch Rugby. Straight away I was attracted to the summer game. It was anaerobic in nature and required speed, agility, skills, tactical nous and of course team work. I managed to make schools and rep teams travelling to regional and national competitions, playing with and against some of the great All Blacks like Glen Osborne, Carlos Spencer, Piri Weepu, Frank Bunce and Eric Rush to name just a few.
Fast forward to 2015 and I guess it shouldn't have been a surprise when I was selected to represent the UAE in the World Cup in Coffs Harbour, Australia. Fast forward again to 2019 and this time I found myself captaining the UAE team selected to play in the 2019 Touch World Cup in Malaysia's capital, Kuala Lumpur.
In the lead up to the tournament we worked incredibly hard as a group. We trained three times a week for 18 months, working on our fitness levels, learning set plays along with multi attacking and defensive patterns. Six months out from the World Cup, we cut the group back to eighteen, creating our final squad for the World Cup.
Knowing the game at international level is very structured, we worked really hard to ensure we had 100% buy in from all of the team on our structure and the style we wanted to play. We knew if we could get our fitness levels up and the structure right, we would upset some of the better resourced and 'favourite' nations, and we were right! Playing in extreme Malaysian heat and humidity, we beat Italy, Holland, Hong Kong, USA, England, Wales and Singapore. Playing early against the number 1 ranked team, world champions Australia, it was a great lesson in skill, accuracy and tactics but we learnt from it and were able to use the lessons against the other nations.
Our quarter-final loss to France was 'the game that got away'. With scores drawn at half time, the French team managed to produce some of that 'French flair' late in the 2nd half, scoring twice to pip us for that coveted semi-final spot. Despondent after the close loss, but determined to finish on a high, we played our final game knowing a win would mean finishing above eight other nations who were ranked higher than us.
Playing with immense heart and skill, the game seesawed as the conditions took their toll. I can honestly say I have never been so close to physically collapsing but there was no way were going to come this far and lose this final game. The resolve amongst the team was huge right throughout the World Cup and the structure we put in place during those hours of training was evident in this final game. With three minutes left on the clock, I was able to break the line on attack, splitting the defense and provide the final pass to our wing who scored!
Celebrations quickly subsided as we realised there was still time left on the clock. With the Singapore team physically and mentally shattered, we defended well, calling on our hours of learning and the structures in place once again to squeeze them into mistakes. The final whistle blew and the feeling of accomplishment was immense! Exhaustion quickly took over though as the adrenaline and oxygen levels had long slipped into debt.
Knowing the game at international level is very structured, we worked really hard to ensure we had 100% buy in from all of the team on our structure and the style we wanted to play
5th place in the world-an exceptional achievement given our lack of international experience. One I was incredibly proud to be captain of, only surpassed by the fact I had achieved it with a great team of men who I will forever have a bond with."