Personalised Planning Process
There is no greater feeling as a teacher than seeing that lightbulb moment where each individual student grasps a new concept in class and really begins to explore their learning at a new depth. As teachers we dedicate a great deal of time into carefully orchestrating these moments so that every student continues to succeed and grow.
Here at WIS, our teachers pride themselves on ensuring that every lesson's learning is purposeful, engaging and personalised based on individual student's next steps. The planning process is key to the success of this as it gives teachers the time to really consider 'what next?' for your child.
'Planning a lesson is a complex process and the relationship between the quality of a lesson plan and an outstanding lesson is widely acknowledged by researchers and educators.' (Taskin, 2017)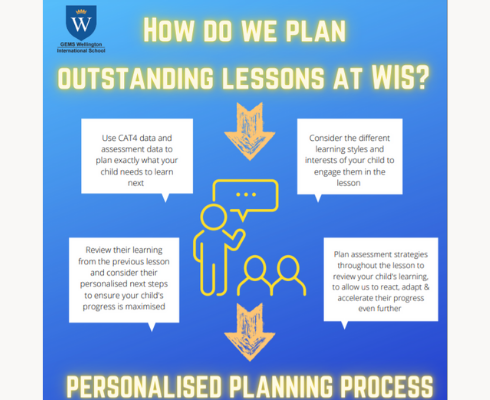 'What does this personalised planning process entail at WIS?'
The answer in its simplest form is a continuous cycle of assessing, planning, doing and reviewing. As teachers, we are constantly using assessment data (from both formal assessments and informally within the lesson) to plan the next steps for your child, which we then proceed to do and review the impact of. This cycle happens continuously throughout the lesson, enabling our teachers to react and adapt, and at the end of a lesson to guide us with the preparation for the next lesson.
Utilising this cycle, alongside the wealth of information we have about your child's individual learning needs; their preferred learning styles and their personal interests and motivations, allows us to plan lessons that not only maximise their progress but also hook and engage them in such a way that they develop into inquisitive and resilient learners who have a genuine love of learning.