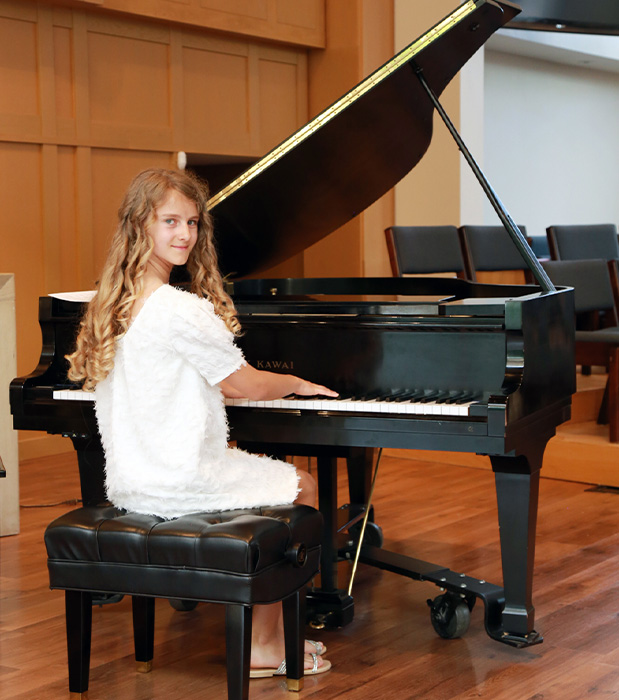 Performing at the Toronto Music Festival
Ekaterina Belyaninova
We spoke to Year 8 student Ekaterina Belyaninova about her journey as a young dancer, turned piano prodigy.
How long have you been playing the piano?
I have been playing piano since the age of seven. At that age I was also taking dance classes, and my parents thought that perhaps, I could also take piano classes and explore my musicality even more! I am so glad that they have given me this opportunity! Now, piano is a very big aspect of my life, and without it, I would not be who I am.
I played piano for three years in my home country - Russia. There, I have performed at various concerts organised by my teacher. My family then relocated to Canada, and I continued playing piano with a new teacher. Canada provides piano students with a unique opportunity to perform in churches, so I have performed a lot at open concerts and have also organised recitals with other students at teacher's houses.
What do you feel is your biggest achievement?
One of my biggest achievements to date was participating in the Toronto Music Festival, where I took first place. Before moving to Dubai, I confirmed my qualification in Canada by getting a Royal Conservatory Level 7 Certificate with distinction. The Royal Conservatory exams are very strict and require lots of preparation, so for me to do this at such a young age really is a huge achievement.
As soon as my family moved to Dubai, our first priority was to find a good piano teacher. We were lucky and now I am taking lessons with one of the best teachers in the region. He is constantly challenging me by giving advanced level pieces, totally different from what I have been playing recently, but I love the challenge. I'm really enjoying every lesson and preparing myself for the next exam.
So far, I have attended several auditions, which are organised to select young pianists to play at the Dubai Opera in front of the world's top most famous pianists, like Anna Fedorova, Marcos Madrigal, Alexander Ghindin, and others. We are able to get valuable feedback from them in the form of a masterclass. The last pianist to have visited Dubai was Alexander Ghindin, one of the most well-known pianists worldwide. 17 children showed up to the audition, but only nine could be selected. In my opinion, this was one of the toughest competitions, therefore I was incredibly excited to have been selected to play at Dubai Opera. The feedback I got from Mr. Ghindin was priceless, and I am so glad that I got the chance to know his opinion and comments on my performance.
What level of dedication does it take to become successful?
It takes years of hard work to get onto a high level of piano playing. If you really want to perform with enjoyment, you have to dedicate yourself with passion. Several hours every day, for many years is the only way to achieve that. Sometimes it is hard for me to manage my schoolwork and my piano classes, especially when I have tests. However, now I have an opportunity to practice at school. This is really helpful in terms of time management, and it allows me to play on a different instrument. I am also really glad that our school has a baby grand piano, since this is my only opportunity to practice on this kind of instrument.
Is being a pianist a career you would like to pursue?
I'm not sure which career path I will choose, but piano will definitely stay with me at least as my hobby.
Mr and Mrs Bolyinova
"It's a big honor and responsibility to support your child playing a music instrument, especially when the level keeps increasing. We are happy and very proud of our daughter playing the piano. We believe that all the effort and hard work Ekaterina is putting into her piano practicing will be a positive in the future. Actually, it is scientifically proved that piano playing adds new neural connections, which primes your brain for other forms of communication.
So, while you think you are just working on a particularly tough piano piece, you are also improving your spatial and math skills, language, memory, attention, speech, and even the ability to vocally convey emotions.
Thus, if your child wants to try doing music lessons, support them!"