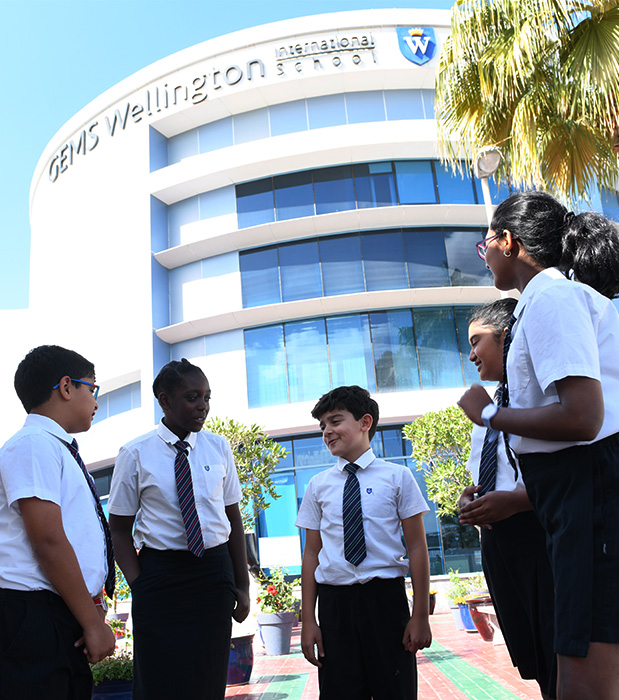 Return to School - September 2020
We are delighted to confirm that GEMS Wellington International School will be offering 100% on-site education for our students from Year 2 to Year 4 and a Blended Learning model for students remaining year groups. Year 11 to Year 13 have the option to be on site 100%. In line with the KHDA directive, we will also offer a 100% Remote Learning option for all students for those families that request it.
Below we share with you our GWIS School Readiness Plan which outlines our procedures and practices and how we will be keeping our students safe while they are in school. Please know the safety of our students, parents and staff is of the utmost importance to us and our guidance may be updated as the situation changes. We are fully committed to supporting the health, well-being and continued academic development of the students in our care.
If you have any questions relating to the below documents then please do not hesitate to get in touch with our Front of House team on [email protected] and they will be able to direct you to the member of our leadership team to support.
Our reopening plans have been approved by KHDA and GEMS and they centre around three critical factors:
The safety of your children across all age groups at WIS. We will adhere to all Health and Safety regulations without exception.
The well-being of your children. We want all students to be happy to be back at school, excited to see their friends at at all times feel safe and reassured that WIS is doing everything possible to keep them safe while providing high quality education.
To provide an outstanding education that is uncompromised by the changes in delivery. We will ensure that every lesson is supporting the progress of your children whether delivered in the classroom or via our Blending Learning or Remote Learning models.
Please review the documents below for more information:
Blended Learning Plan – All Year Groups
WIS Return to School Lower School Guide for Parents
WIS Return to School Middle School Guide for Parents
WIS Return to School Upper School Guide for Parents
Here's how GEMS Education is ensuring the safety of your child